2 1/2 tablespoons (1 Knox packet) unflavored gelatin
1 cup water (divided use)
orange food coloring (optional)
1. Place ½ c. of cold water in the bowl of a large stand mixer fitted with the whisk attachment. Sprinkle the gelatin on top of the water, and stir to distribute the gelatin. Allow it to stand while you prepare the sugar syrup.
2. In a small saucepan over medium heat, combine the granulated sugar, corn syrup, salt, and ½ cup of water. Stir until the sugar dissolves, then insert a candy thermometer. Cook, without stirring, until the mixture reaches 240 degrees.
3. Once it reaches 240 degrees, remove the pan from the heat. Turn the mixer to low, and while the mixer is running, slowly pour the hot syrup into the mixer bowl over the gelatin. Be careful, as the syrup is extremely hot.
4. Gradually increase the mixer speed to high. Continue to beat the marshmallow until it has tripled in volume and is extremely shiny and thick. This process will take approximately 12 minutes.
5. Once the marshmallow is done, add the room temperature mango puree and continue mixing until it is fully incorporated. (Add food coloring, if desired.)
6. After the puree and coloring is incorporated, turn off mixer, and stir in chopped pineapple.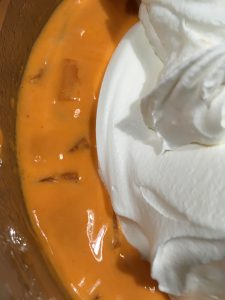 7. Fold in Cool Whip and turn into a serving dish. Enjoy!