(30 minutes, serves four)
It is honestly still a little bewildering to me, growing up in a Sri Lankan tradition, that one can make quite tasty food without chopping several onions and utilizing a host of spices.  But I have to admit, on a weeknight when you want to cook fast and get back to catching up on Doctor Who, it's nice to have the option.  This dinner uses only steak, broccoli, potatoes, olive oil, salt, and pepper.  That's it!  Yup, still bewildering.
Note: You'll have enough time to make 2 lbs. of flank steak, which gives you enough for sandwiches or salad at lunch the next day. But you can just make 1 lb. if you prefer.
2 lbs. flank steak
4 Yukon Gold potatoes
1/2 lb. broccoli
olive oil as needed (about 1/2 c. total)
salt and pepper to taste
1. Preheat oven to 350. Cube potatoes, toss in a little olive oil, salt and pepper, transfer to a foil-covered baking sheet, and start in oven. Set timer for 15 minutes.
2. Cut up broccoli into bite-size pieces (stems and heads both), toss in olive oil, salt, and pepper, and set aside.
3. Cut flank steak in half (so it will fit in grill pan or frying pan). Start pan heating on high (it'll give off a fair bit of smoke while cooking, so a strong vent fan is helpful here). Spread some olive oil, salt, and pepper on both sides of the two pieces of steak. When pan is hot, add one piece to pan.
4. For medium rare, cook four minutes on one side, then flip over, and cook three minutes on the other side. Somewhere in here, your timer will go off. Pull out the potatoes, and add the broccoli to the roasting pan; I like to put them evenly around the edge, piling up the potatoes a bit if needed. Put back in the oven for another 15 minutes.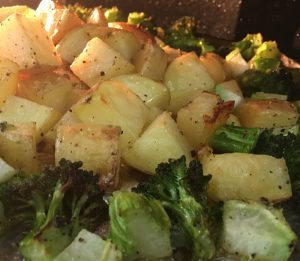 5. Take the first piece of steak to a plate to rest; it'll give off some juices (which we usually pour off and add to our grateful dog's dinner) over the next few minutes. Start the second piece of steak going — again, four minutes on one side, three minutes on the other.
6. Pull the second piece off to rest; by now, the potatoes and broccoli should be finishing up, lovely and golden and crispy, beautifully sweet on the insides. Slice the first steak thinly against the grain, and serve hot with vegetables and perhaps a nice dry shiraz for the grown-ups.