We need to choose a few doorknobs for the first floor, and we're going with
an Eastlake style
, I think, to match the formality of that floor and the aesthetics of the house. That still leaves some choices to make. We need doorknobs in a few places: powder room, pantry (right next to each other), two matched pantry cabinets in kitchen...umm...not sure if there are any more, aside from exterior doors that are separate. Maybe one more closet I'm forgetting? Mostly, the first floor is large openings between rooms. Any thoughts on the following?
(Our light fixtures are either polished/brushed nickel or oil-rubbed bronze, so I think I'd avoid the brass options. Although maybe antique brass would coordinate okay?)
1) Rejuvenation, Edwards: Eastlake Door Set ($129), very classic Eastlake, with the Japanese influence; brushed nickel, lacquered brass, or polished nickel:
2) Emtek's Lancaster Door Set ($105), more of a medieval flavor, which I like a bit more than the Japanese, I think; polished brass, antique brass, satin nickel, oil-rubbed bronze (I don't think this one comes with a backplate):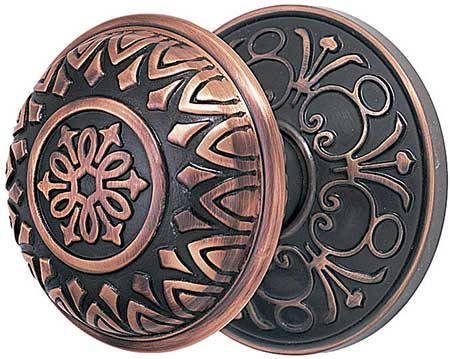 Alternatively, we could abandon the idea of having them match, and go to antique stores and try to find sufficient Eastlake-style doorknobs in a variety of styles. Which is maybe okay too, but takes a little more time, and it's a bit more chaotic a feel. Also, it'd be hard to have the finishes coordinate much, and most of what's available will probably be brass or antique brass, which I don't like as well. And I worry a little that old mechanisms won't work well anymore. But considering that they often cost the same or less than a reproduction, and you get that unique antique charm...I'm torn.
3) For example, here's an antique potted-flower Eastlake doorknob which I find kind of adorable, $85:
4) Or some like this aren't available as door sets, but just single knobs -- which would work fine for the shallow pantry doors, which never need to be opened from the inside, I think? There seem to be a lot of them for around $40-50 per knob.
5) And I admit, given that our house's name means 'Dwelling Place of Lions,' there's also a temptation to go with lion doorknobs. Like this beauty (which sadly, is only available in the polished brass); about $35 / knob)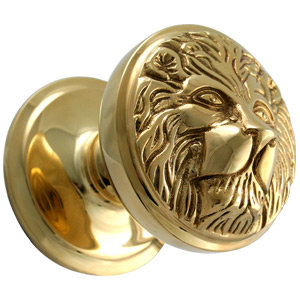 Admittedly, I haven't discussed that idea with Kevin yet, and he may just shoot it down. Hmm...if we were doing the brass lion, I might want to actually put those on the second floor, which is going to have warmer tones throughout, and possibly a more overtly medieval / whimsical flavor. (Roshani gave me a lion/unicorn tapestry for Christmas which I'm going to hang up there in the library, for example.) But if so, that's probably going to have wait quite a while, because our current budget only allows for very basic doorknobs on the second and third floors.
For lions, we could also go with a classic lion door knocker instead.
Thoughts?