Okay, I need some pergola / arbor help. Here's the thing. We're considering building a pergola on the back porch, to provide some shade and a place to grow grape vines. I think we'd use the porch a lot more. But our architect is pretty busy, this is outside the original scope of the project, so we'd have to pay him more to draw it, and so it'd be ideal if we could just sketch it ourselves. And there are a ton of pergola designs out there. So fine. I looked around: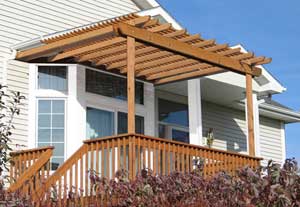 That one is nice and simple. The lattice on the top provides extra shade and more support for growing vines. We'd probably add a lattice on the south side as well, for privacy from our neighbors, additional shade, and more support for vines.
I also like the design elements in this one:
But a) that's a radial pergola, so I'm not sure how to adapt it to an attached porch pergola, b) more design elements cost more to build, and c) maybe it's not worth bothering with, given that I'm planning on having it just covered in vines anyway. So maybe I shouldn't bother with any of those little curved pieces, etc.? What do you think?
Here's the rear of the house (facing east):
Here's the south side of the house:
And to add to my confusion, we also need to buy / build an arbor gate, for the path on the south wall. So I need to find a pattern for that, or a ready-made one, and it'd be nice if the two structures were coherent (and looked nice with the house, which is Victorian, but relatively un-fussy for a Victorian). I also have to decide whether to do that gate and its attached fencing all in metal or wood. The fence in the front of the house will be metal; the one in the back will be wood (stained, not painted). So I think that bit of fence + gate could be either -- which would look better from the street?
Any advice you have about designing this (for example, do we run it all the way to the south end of the porch, or stop before the stairs (in which case, no south lattice)?) would be appreciated. Wood or metal for the garden gate and fence? Any sources for inexpensive but nice gated arbors? Help???