So, I listened to all your good advice, and I guess some of it sunk in. Yesterday, we put a deposit on another rental apartment. It's the first floor of a house, and is smaller than our current place, by one bedroom. There's no fencing in the front or backyard (and the backyard is basically a shared parking lot), so that's not nearly as good for Ellie or the kids.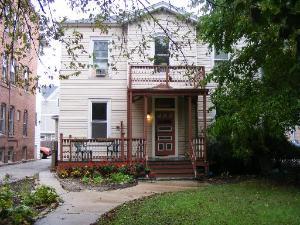 But on the plus side, it's a six-month rental, with month-to-month thereafter, which is pretty much exactly what we wanted and didn't expect to find. We've been looking for a short-term rental for quite a while -- this one is a house that's been on the market, that they've just decided to take it off, and try again next year.
There's a little bonus room with no closet, but I think it'll work as a third bedroom for Anand. It's a lovely old house with great details on the floors, a coffered ceiling in the dining room, some built-in bookshelves, etc. It's three blocks from our actual house, so easy to walk over and check on progress. It allows dogs, so we get to keep Ellie, hooray!, instead of shipping her off to Ron and Liz's. There are no stairs, so child-proofing is easier, and we can fret less about Anand breaking his neck as he progresses from crawling to walking in the next few months. The front yard is pretty, and the landlord seems pretty easy-going, so I'm hopeful that he'll let us put in some veggies, in pots at least. I need my cherry tomatoes.
And perhaps most importantly, the rent is about half what we're paying now. As a result, I may actually indulge in paying movers to pack our stuff -- something I've never done before, but which would help a lot with my stress levels, I think, because all I really want to do this summer is write, not spend weeks putting things in boxes, only to take them out again temporarily. (I'm sure I'll do small bits of packing nonetheless, in the next month, but knowing that we can just pay them to do whatever I don't finish is going to be helpful.)
So, hopefully they'll approve our application soon, and we'll be all set. Fingers crossed.