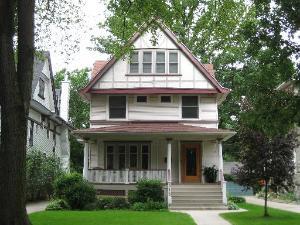 So we've apparently (fingers crossed) come to an agreement on a house at 315 N. Grove. Paying more for a house than we'd originally planned to, but quite a bit less than the sellers were asking, so probably reasonably fair all around. The interior of the house is notably prettier than it looks in the photos. Also, I plan to add some stained glass. :-) Some of the things we like about the house:
has a small playroom / tv room in the finished basement (hooray for getting at least some of the toys out of sight!)

lots of nice hardwood original trim, especially on the first floor

wood frames over the first floor radiators -- it's a small detail, but pretty, and more importantly, good protection for crawling babes

includes a little mudroom in back with storage for boots and the like -- should be a big help in keeping muddy dog and kids under control in winter

has good sized kitchen and breakfast area -- a priority for us

has a dedicated guest bedroom with its own bath (which we may use as a second office much of the time)

has an open library space on the second floor that can function as another alternate office, especially when kids aren't home or are sleeping or are down in the basement playroom

has a third floor office for Kevin and I to share, off the master bedroom (which is big enough that I can have a canopy bed, yay!)

has master bath (about a third of the houses we looked at didn't have this, and while it wasn't a deal-breaker for us, an attached bath should be a nice element)

has two fireplaces (one wood-burning in living room, one gas/wood combo in master bedroom)

just tons of built-in storage added by current owners (admittedly, we wish they'd used nicer wood for the fronts of many of the cupboards, but still, the functionality is good)

just a few blocks from Daniel and Anne's house, and also the same school district -- Kavi can't give up her playmates! :-)

is in a truly fabulous location -- easy walk to one of the best primary schools in the area, two short blocks to the gorgeous public library and Oak Park's downtown, while still being on a quiet tree-lined street, and just 4 very walkable blocks (.4 miles) to the Oak Park Green Line station (which lets us take the subway in to work, if we don't mind a slightly convoluted route through downtown Chicago)

has very little we'd want to renovate right away -- painting some rooms, redoing the tile on one fireplace; basically, it's move-in ready
I admit to being a little wistful about not finding the perfect Victorian with a turret, but it's just become clear that the Oak Park Victorians that are as big as we'd like, and in good condition, are simply out of our price range. Ah well. We thought seriously about buying one of the more battered/small ones cheaply, and doing a major renovation/addition -- it was a tempting thought, but with the new baby coming and all, I don't think we'd have the energy to deal with that for years. And even when we did, it would be such a major undertaking, just thinking about it made me cry. Ten years ago, or even five, maybe that would have been a fun project, but at this stage in our lives, not so much.
The Grove house is a really livable house, and if all goes well in the next few weeks, I think we'll be really happy here.
I am somewhat tempted to repaint the front exterior at some point. E.E. Roberts was a pretty well-known architect of his time (one of Frank Lloyd Wright's rivals in Oak Park, although not nearly as talented or famous :-), and I'm normally all in favor of maintaining the history of the house. But I'm just not a big fan of the Mock Tudor or Tudorbethan look. (Gods, Tudorbethan's even an ugly word -- Tudor Revival is somewhat more dignified at least.) Yes, it's hobbity, I admit, and I do love hobbits, but perhaps it's a bit much in a house? Much as I adore Merrie Olde England, if it's not the real thing, I don't know that there's so much point in a rustic cottage look. Especially since the shape of the house isn't even Tudor, I think -- the interior rooms are fairly open and airy, rather than low and musty.
Would you consider it a travesty if I painted over those those fake half-timbers on the front facade? I don't think they're even wood -- just paint! Although I won't swear to that yet. Would the neighbors get mad?
Next step: inspection. Tentative closing: 9/15/09. Baby due: 10/10/09. So as long as he doesn't show up early...