This Sunday, we're going to take another look at the Victorian we fell in love with, but are also going to two other open houses. I think we've mostly given up on the crazy Mad Hatter house, because it's right across the street from a middle school, which is a bit more craziness than we want to deal with, I think. So here are three of the top contenders...click on the photos for more info.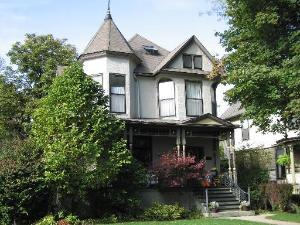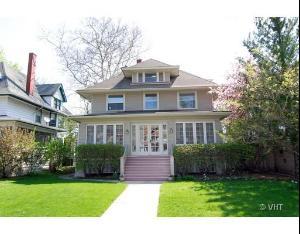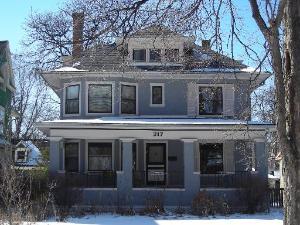 The prices are similar, as are the locations, so it may come down to the actual houses. Which has me thinking about styles of house. Obviously, the first is a Victorian -- the other two are
American Foursquares
.
They're all about a hundred years old, and all lovely. The Victorian is a bit more romantic, of course (turret!), but the Foursquares definitely have their own charm. They all three have porches (the one on Clinton is enclosed, which I think is possibly better, but not sure). At least one of them looks like it may have more of an open floor plan than the Victorian does, which is a good thing, I think?
We waffled for a long time between modern and old buildings when selecting our current condo, and while we've missed the romance of an older building, we've certainly enjoyed the open floor plan on our first floor. It's fabulous for entertaining, has a lovely spacious feel, and also makes it a bit easier to keep an eye on a small munchkin while still letting her have some space to roam around in. Our friends Anne and Daniel recently bought a home in Oak Park, and they had a firm priority to have an open floor plan -- which is tough to find there! There's only so much you can do to most older homes to renovate in that direction before you start running up against load-bearing walls and the like. Which is making me wonder whether we should be paying more attention to floor plans as we look, and aiming towards the homes with open plans?
Yet at the same time, with both Kevin and I working at home so much, one of the things we've missed in our current home is the ability to shut the door and hide away from the child / tv / etc -noise. Oh, we can do it, a bit, but only by closing one door. I'm finding the idea of having multiple closed doors (and a few flights of stairs) between me and the rest of the world rather oddly alluring. There had to be a reason why the Victorians built all those teeny tiny rooms separated by doors, right? They had big families in those houses -- maybe it's a good way of building in some privacy and mental space.
What do y'all think? Do you have a preference for open floor plan or closed doors, or does it just not matter to you? And if you care, why do you care?
Any other comments on the specific houses above are also welcome. The Victorian has dropped its price considerably, which is making it very tempting. But we're still planning to hold off on actually making an offer until we have a contract on our condo, because possible double mortgages are so risky. We have our first showing on Saturday, and an open house on Sunday. We'll see how it goes.