(90 minutes, serves 8)
This is essentially a cross between coconut milk flan + chai-style spicing, legacy of Portuguese colonialization of my little island. Using jaggery and treacle would give a darker color, more characteristic of vattalappam; you can add a little dark molasses to approximate that color and add a tasty, slightly bitter, note.
Note: When cooking for a *big* party, I usually double the recipe and cook it in a single large baking dish, serving it alongside a big dish of mango fluff, marshmallows, milk toffee, etc.
4 fresh eggs
1/2 cup jaggery (or firmly packed dark brown sugar)
1/2 cup maple syrup, kithul treacle, or a combination
1/2 cup water
1 1/2 cup coconut milk
3/4 cup evaporated milk
1/2 rounded tsp ground cardamom
1/4 rounded tsp ground mace
pinch ground cloves
1 TBL rose water
1. Preheat oven to 325 degrees.
2. Beat eggs slightly (not 'til frothy). Dissolve jaggery in water over a low heat and then cool slightly. Add sugar syrup and maple syrup to beaten eggs, add the coconut milk, and stir to dissolve sugar.
3. Strain through a fine strainer into a large jug, add evaporated milk, spices, and rose water. Pour into individual 4 oz. custard cups. Put custard cups in a baking dish or roasting pan; put dish in the oven and carefully add water to come halfway up sides of cups. Bake until set, approximately 1 1/4 hours.
4. Cool and chill custards before serving.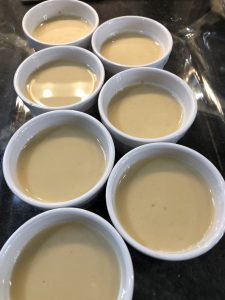 Note: Old eggs have less egg volume than fresh ones, and may not set properly; if you only have old eggs, try adding an extra egg or two.