After brunch at Koko Head Cafe yesterday, we did a little Christmas shopping in that neighborhood, which has a bunch of small mom-and-pop stores. We hit up two separate comic book stores, where I found a Goku action figure for Anand, and a compendium of Amethyst, Princess of Gemworld comics for Kavya, score! I hope she likes it; Amethyst was my introduction to comic books, found flipping through bins at my local library. It's a shame that it's only been reprinted in black and white, though — a lot of what was appealing about it to ten-year-old me was all the PINK, which showed up shockingly well amidst all the dark-toned Batman, etc. comics.
We also found several small holiday gifts (like Hawaii-themed hair ties) at Sugarcane (https://www.facebook.com/sugarcanehawaii/), an adorable little gift shop with a mix of local-made, vintage, and other items.
When we had a little more room in our tummies, we walked over to Pipeline (all of these were within a few blocks) where we had PERFECT malasadas, light and airy and made fresh to your order. Jed went for the classic sugar-coated one; I reveled in the li hing sugar-coated one, which had a slightly tangy-salty flavor, which contrasted beautifully with the haupia (coconut) vegan ice cream, made with straight up coconut milk, and you could totally tell; nothing like any coconut ice cream I've had on the mainland. So good.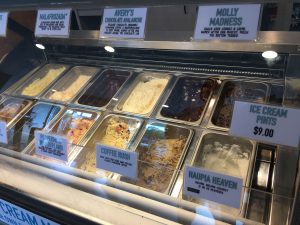 Then we drove over to South Shore Market to finish our holiday shopping; several nice stores selling fairly standard gift-y things, but many made by smaller local businesses.