Everything but the kitchen sink -- I find it heartening to see the kitchen sink actually in. :-) And the kind I've always wanted too, a wide, single-bowl farmhouse sink. It drives me crazy trying to wash big pots in a too-small sink. I know some people like a double sink so they can soak in one and rinse in the other (or something like that), but I've never liked doing that. Just one big sink for me, please, with lots of room. This is the Kohler Dickinson (Pam passed along her serious discount on Kohler to us, which was very nice of her and a huge help with our budget.). We briefly thought about getting the sink in sea salt, but it would have been $700 more, which felt more than a little ridiculous. And honestly, now I think maybe the white is a better choice anyway, for a old-fashioned style kitchen. The sea salt would be very pretty in a sleek modern place, but this will do us fine.
Here's George, our tile guy. Say hi, George!
I guess he's too busy. Better not disturb him, because when George gets going he turns out beauties like this (Porcelanosa's Deco Silk Blanco tile):
We had thought about a tiny clawfoot, which would have looked charming, but practicality won out -- especially since we expect to have elderly and child guests, having a reasonably low wall for them to step over seemed more important. This one is 14" high. The 5' wide tub also allows more soaking length than a clawfoot (which would have had to be notably shorter to allow sufficient clearance around it). We'll be adding a grab bar which will mar the aesthetics slightly, but again, will be more practical for guests. And practicality and comfort is obviously more important in a guest bath! The tub is cast iron, like a clawfoot, so it should retain heat much better than a regular tub. (Kohler Villager)
My only concern about this bathroom (aside from how tiny it is) is that the window doesn't open. I'm generally a big fan of operable windows in the bath. But we have a good exhaust fan in the ceiling to help air it out, and that wall faces directly onto the apartment building a few feet away; Pam argued that guests wouldn't want to be opening the bathroom window onto that. Hmm...I'm not entirely convinced -- we could have done an obscure but operable window, so they'd at least have the option of opening it. But this does look cleaner. Oh well -- too late now.
The tile in the master bath shower is much simpler -- a basic quartzite tile (slate variant), very cheap! I wanted something with a bit of a medieval castle feel in here, and after considering and discarding many options (Kev didn't like protruding brick style, for example, and I don't like yellow-ish stones), I'm really happy with the final result. The quartzite has really pretty color variation, but is lighter and warmer and subtly sparklier than slate. Setting it in diamonds makes it feel even more medieval. And we splurged on just six accent tiles (Bronzework Studio's Blooming Leaf in white bronze), which I just love. They're a little feminine, but not overly so, given the heavy, solid metal in which they're worked. Beautiful.
Again, I have window issues -- this time, I agitated for and finally received (after MUCH argument) a window inside the shower. I love the open-air showers in Sri Lanka, and when the weather is nice, a little fresh air in the shower is a wonderful thing. And this window faces onto our backyard, with the nearest neighbors a decent distance away (especially since the window is set high enough to screen any naughty human bits inside the shower). BUT, my architect and contractor united to insist on a vinyl window in the shower, for avoiding leaks and water damage, I guess. SIGH. It bothers me aesthetically; it bothers me mightily. An old Victorian house should have wood windows -- this is the only vinyl window in the house, and I wonder whether I'm going to regret it. We'll just have to live with it for a while and see.
We still have to choose the countertop for the master vanity (below), which I'm a little confused about.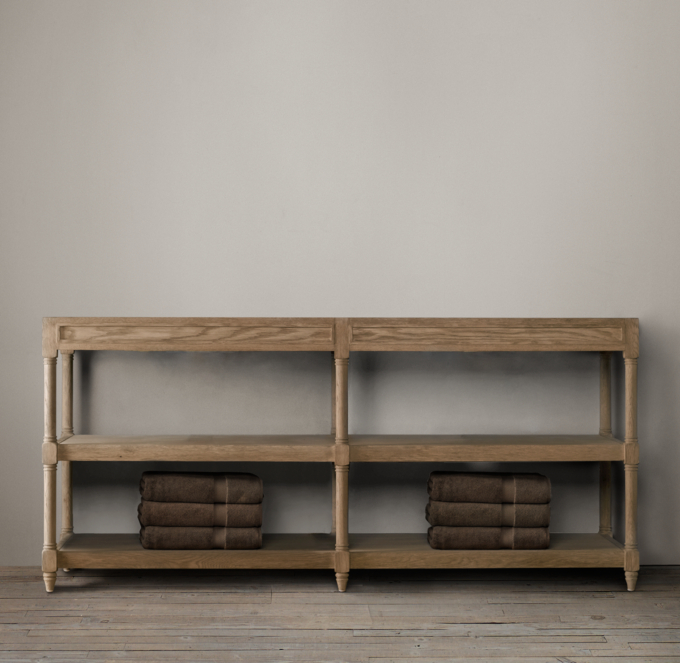 It originally came with a Carrera marble countertop, and we could have bought the base and counter together, but Pam said we could get the stone top for half the price from her guys. Cool -- we just ordered the base. But now we're not sure we actually want a marble top. Here are the elements of the room -- the quartzite tile and white bronze accent tile shown above, a light weathered oak washstand, a white clawfoot tub (which we may paint grey on the exterior, or might leave white), the Indian mirrors pictured below (Nadeau), and possibly the little storage rack pictured (a pic I took at Pottery Barn a few weeks ago, but oddly, I can't find that piece on their website). But that's the look we're thinking of, sort of a mix of medieval / industrial.
Given all that, would you do the countertops in:
white marble with grey veining
quartzite slab (same as the tile, essentially, but all one piece)
zinc (would weather to dark grey)
I'm actually leaning towards the zinc at this point (Kev's suggestion), which I think is going to comparable to the marble in pricing if I'm remembering right. The quartzite would be cheaper, but I think it might be a little matchy-matchy. And the white marble would be fine,
as shown in their picture
, but perhaps uninteresting? Not sure.
It's funny how some things turn out perfectly, exactly as I envisioned them and just beautiful. And others, not so much. Pam's guys put in the oak beams on the ceiling (still need to be stained dark brown) and tried adding a little star -- and I hate it. It just looks tiny and flat and cutesy and out of scale and wrong. It might be okay for a kids' playroom, but it doesn't have the necessary gravitas for my study. I'm not sure how to fix it, but I think maybe it would need to be three-dimensional in some way? Or maybe I abandon the star idea and just suspend a sphere? I don't know, but this, it is not working. Help!
Also, I am fretting about that blue on the ceiling. I love it as a color, but maybe it's too jarring a transition between it and the off-white walls? Not sure not sure not sure. Help help.
On the other hand, I LOVE the blue and purple we picked out, now that they're on the house. BM's Downpour Blue and Blackberry Wine. Yum. Like getting drunk in the rain on a summer day.
On the third hand (or is that fourth or fifth or seventeenth?), the green the painters suggested for an accent is not working for me. (Pam agrees.) Too limey. We're going to have them try the same color a shade darker; I have high hopes for that.
Here's my last mistake of the set. I'm sure you don't remember, but I was so excited when we bought the house in fall of 2009 that I somehow managed to go out there and plant some bulbs along the front walk. Kind of goofy in retrospect. They did come up in spring 2010, although it turned out I had squooshed them too close together and they were kind of a mess. Worse than that, though, is that of course we moved the path last fall. Now the bulbs on one side of the path are on a line to nowhere -- and the ones on the other side are buried under the new path, never to see the light of day again. Sigh. Ah well -- live and learn, and in the meantime, I'm still glad to see that little peep of yellow. First bloom in my garden, a tiny yellow crocus. Welcome, little guy. So glad to see you.