Kavi was in a terrible mood after her nap, so we bribed her with a trip to Borders to get a dinosaur treat. We are definitely not above bribery. As it turns out, she got distracted by the Valentine's display while there, and we bought Valentine's books instead, and were all the way back to the car three blocks away before she suddenly remember the dinosaur thing and was inconsolable. So, being a good mama, back we went to Borders through the cold, where we found a little dinosaur book on clearance for two bucks, hooray. After all of which, I sorely needed a treat myself. So I picked up a copy of Martha Stewart Living, one of my guilty pleasures. I love you, Martha, and I'm not (too) ashamed to say it.
Here are two lovelies I really liked from this issue:
Wooden toothbrushes ($12.50/set plus shipping), each with three months on them, so you're reminded to change them:
You may remember that we ended up going with this double washstand for our master bath? We bought it without the marble countertop; Pam's guys can get us the equivalent for half the price, it looks like.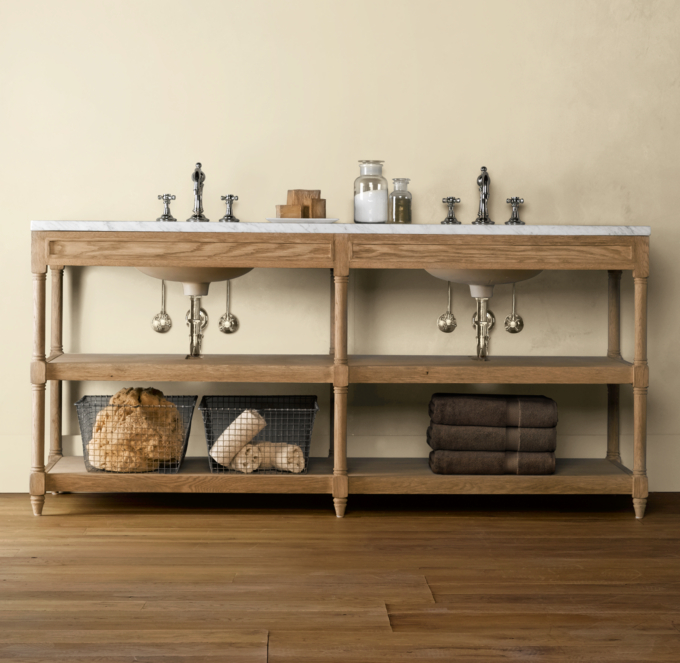 Probably with some closed wooden boxes underneath (The Container Store had some nice bamboo ones a few years ago, hope they still do), because I'm pretty sure we're going to need more closed storage than they picture above. But I would love to find some apothecary jars to sit on top, filled with soaps and q-tips. Ideally for fifty cents in an antiques store...
The plan would be that the wood toothbrushes would sit on the washstand in these mugs from Anthro (the first ($6) with a K for Kev, and the second ($3.95) with an M for Mary Anne). I don't like regular toothbrush stands -- they tend to get obviously gunky very fast, and often have padded or stuff on them that's hard to clean well. I think mugs may actually do a better job of being clean-able.
Any ideas for non-ugly toothpaste? That is still effective and not too expensive? (I know about Marvis, but haven't tried it. The $10 price tag is scaring me.)
I didn't actually buy this Martha pick, but I would love it for my front foyer -- a pierced porcelain umbrella stand. I have an openwork wood Indian bench there, and I think we're going to use a pierced metal pendant lamp. Maybe it would be too much to have the umbrella stand too, but I think all the piercing might marry the disparate materials nicely. Maybe.
I admit, I bought the toothbrushes -- a small luxury, and now my master bathroom-to-come feels more complete. The umbrella stand went on my wish list for a possible future day. So pretty!