We're waiting. Trying our best to actually be productive and enjoy the last days of summer before school starts, but mostly, we're waiting for word on our house. I think I'm over the whole superstitious thing, so here are a few details on what's been going on.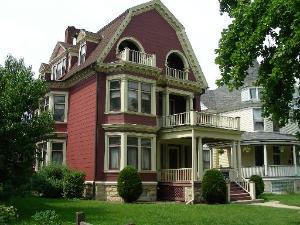 We decided to go back to the Mad Hatter house (aka the Red Barn), despite its downsides. It has one fewer bedroom than might be ideal. I think Kev and I would try sharing an office here, so we can maintain a dedicated guest room -- it'd be on the third floor, the room with the two round openings (french doors) and the two little porches. The kids' bedrooms would be fairly small (Kavi's would be the one with the three windows on the third floor, I think, that middle dormer.) And it might have major issues on inspection given that it looks a bit rickety in various spots, plus, it's right across from the back end of a middle school, not to mention, we'd have to put in a back fence right away for Ellie -- but the fact remains that I love it.
I love all the medieval-style stained glass throughout the first floor, the stained glass door to the kitchen, the huge stained glass piece going up the stairs, the massive front door, the three porches, the rather glorious master bedroom/sitting room/bath/porch combo, the second-floor laundry room, the wacky charming exterior. Since I don't crazy love any of the other houses (and neither does Kevin), it seemed worth giving this one a real shot. We put in an offer, they countered, back and forth and such until we were within $5K of each other by Thursday last week -- and then the process stalled for several days. Because the homeowner doesn't actually want to sell his house.
Yes, we've twice now found homeowners in Oak Park who don't actually want to sell their homes. In a market where it seems that everyone else we've talked to is desperate to sell. We have a talent.
It's a divorce situation; the wife has moved out, and the husband who lives in the home with their children doesn't seem to actually want to move. Given that the house has been on the market for more than a year and he hasn't done even the basic staging things like repainting all the vibrant murals on the third floor, or redoing the badly battered trim on the outside of the house, it seems pretty clear that he doesn't feel a lot of interest in selling his house, taking some portion of the money, and moving into a smaller house with three children. I can't really blame him for that. But at the same time, he's going to have to move eventually, right?
Anyway, his wife took him to court on Friday, and supposedly the divorce attorneys worked out a deal, with a price we could accept (although we're still wrangling on 30 days to closing versus 45 days, which as you can imagine, is a useful distinction with a baby due on October 6th, and quite likely to arrive by c-section a week earlier). We thought it'd all be settled on Monday, barring inspection issues, but Monday came and one of the attorneys apparently was sick (sick? really?), and they rescheduled for today. And of course today, our realtor got on a plane at 7 a.m. to go to some real estate conference out west, and won't have e-mail access until 4-ish or so, so it may be late today or even tomorrow before we find out for certain whether we have a contract or not.
Have I mentioned that as of tomorrow, we'll be at Daniel and Anne's for two solid weeks? We're going to owe them -- well, some money, definitely, but also some major favors once we move to Oak Park. Luckily, with their two kids, I imagine emergency babysitting opportunities will arise. Or maybe they'll decide to redo a room at some point and move in with us for the interim to avoid construction chaos. That would be fair.
Anyway. We're just trying to stay busy and calm at this point. I've been writing most days, which is good. Lori and I are trying to find a decent place to work in between Oak Park and her house -- today we're going to try the cafe at Eli's Cheesecake World. Kev's been actually doing some math. We're getting to know Oak Park, and so far, I'm liking it a lot. The Indian restaurant is better than I remembered -- quite decent, if nothing fancy. The Caribou is a reasonable chain cafe to work in (Buzz is also good, but too far to walk from their house; others to check out soon). There are four separate good bookstores in walking distance from Daniel and Anne's -- one of them a dedicated children's bookstore, totally charming. The public library is amazing, with a massive children's section, and both a grassy park and a sandy play park just outside the front doors. Also lots of quiet areas for reading or working, of course.
Anne and I have signed up for stained glass classes at one of the local stores, Two Fish. I came very close to finishing crocheting a sweater for baby boy and then ran out of the yarn -- the rest of it is in our storage unit, so I've put it aside until closing, whenever that might be. I've been over to nice local yarn store Chix with Stix in Forest Park next door, and found some fabulous yarn (Knit One Crochet Too Ty-Dy Sock yarn in Painted Desert, see below) for a new orange-pink project for Kavi's room, some sort of afghan/throw thingie, not sure what exactly yet. I've bought a few small items for the house, that should work in whatever house we end up in. Extra fans, decorative pillows and candles for Kavi's room, that kind of thing. I've ordered my books for the one fiction class I'm teaching this fall, and will make up a syllabus this week.
Mostly, though, we're waiting.