On Sunday, we dropped off Kavi at Jarmila's, and went to look at open houses in Oak Park. This was meant to just be a preliminary look at some of the places we've been avidly perusing online, since we're not actually listing our place until next week (the painting is half done! The de-cluttering, ditto! The masonry guy comes today! The handyman comes Friday!), and who knows how long it'll take to sell after that. Average time for condo sales in our area is about six months right now. We have some advantages (in that our place is gorgeous and unusual and there aren't that many three-bedroom condos in our neighborhood), but also some disadvantages (in that it's a high-end unit, and as a result, a lot of potential buyers would need a jumbo loan to buy it, and banks are not so happy to give those out these days). So while our place could get an offer the week it goes up, it could also easily sit for six months, or a year, or more. So our very sensible plan was to wait until it sold before seriously making an offer on an Oak Park house.
Then our sensible plan went (half-way) out the window.
See, we looked at houses. The first one was too small. The second one was workable, and relatively cheap, but would probably start feeling small in a few years when second kid starts wanting his/her own room. The third was the ranch house, and I vetoed it because it's just not the kind of house I like (apologies to those who love ranches, but I'm a multi-story gal, as long as my legs keep working). So far, so good.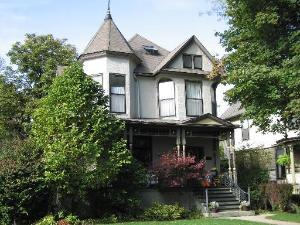 Then we decided to just drive by one of the houses we'd really liked, but which didn't have an open house listed. We were very curious about it, because it seemed huge, and we were worried that they'd just extended the house right over their entire backyard. It was lovely from the front; we stopped and sat on the low stone parapet surrounding a massive tree, and admired the many levels of Victorian loveliness. The grey walls, accented with pretty purple trim. The incredible wraparound porch, and the mature shrub garden that screened off the porch, providing privacy. The turret! :-) But we couldn't see the backyard at all from the front, so Kevin suggested driving around to the back alley behind the house.
When we did, we ran into the homeowner, working in his open garage on his daughter's car. Kevin wouldn't have bothered him, but I have no shame -- I told him we loved his house, and had been admiring it online, and he said, "Would you like to take a look?" He said his wife was out, and so it would be particularly easy, since normally she liked to clean for two hours before anyone came to look at the house. Of course we said we'd love to, and he said he'd clean the grease off his hands and meet us in front. So we drove around and parked -- only to see a woman carrying a flat of garden plants walking up the front stairs. Oh, no!
At this point, even I felt a bit embarrassed, but her husband was expecting us, so we were pretty committed. We walked up to her, and started explaining the situation in a stumbling sort of way, while she looked astonished and maybe even a bit harassed. But then he came out, thankfully, and managed to smooth things over and convince her to let us take a look, even though the beds weren't made. And oh, my god.
It's gorgeous. GORGEOUS. You walk in, and it's like stepping back in time. You could be living in a Jane Austen novel. Six bedrooms. A beautiful breakfast room overlooking the porch in back and the very nice backyard (that has not been entirely built over, thank god). Original hundred-year-old stained glass (in nice abstract patterns, as opposed to the original stained glass sailboats in one of the other houses). Four baths. Beautiful dark wood. A terrific kitchen. Central air (rare in old Oak Park homes). A rec room downstairs. A small tandem playroom off one of the bedrooms for Kavi. They raised six children in that house, so it is plenty big enough for us. I might even say too big, except that with both Kevin and I working at home so much (every writer (and mathematician) could use a room of their own...), and with all the guests we have who come and stay for weeks on end, I actually do think we'll make good use of all the rooms. And if we happen to have one left over -- a library? a solarium? :-) Want a virtual tour? Take a look!
There are a few issues, of course. There's only one smallish full bath on the second floor, which is where all the bedrooms are, so we'd be sharing it with the kids. We're thinking that we might instead take the renovated attic, that they currently use as a massive family room, and turn it into our bedroom instead, since there's a bath up there. But we can't remember if that's a full bath or not... And the exterior walls are stucco, which wouldn't have been our first choice -- Kevin's concerned that they might have more maintenance issue than some other options would have had. It's closer to a mile walk to the subway, instead of the half-mile we'd hoped for. And....umm...that might be it. The house is damn close to perfect. And it's not just me saying that -- Kevin loves it too. :-)
It's also super-expensive. They've come down a lot from their original price, but it's still at the very top of our price range. Which is okay, as long as our condo sells quickly. But Kevin helped me run the numbers -- if we bought the dream house right now (with some help from his parents), and then our condo didn't sell right away, it'd cost us $10,000 for every three months it stayed on the market in double mortgages. That adds up really fast, and while we could manage it for as much as a year, if it takes longer to sell, we could be in big trouble.
We're trying to be prudent about this. Instead of rushing into an offer right away to try to lock the house down, we're going ahead with our original plan. We're finishing up the work on the condo, and putting it on the market next week. We're going to actually go and look at the three or four comparable houses in Oak Park, including the Mad Hatter's red house that so many of you liked last week. (Big downside to that place -- right across the street from a middle school. Which, okay, will be convenient eventually, but several years of noisy traffic/kids nuisance beforehand, we worry.) We're going to wait at least a week before doing anything rash. And of course, even if we decide to put in an offer, there's all the inspection issues, especially for a hundred-year-old house.
But gosh. Isn't it pretty?
Would you risk carrying a double mortgage? How do you decide, when you don't know how long it'll take to sell???