Sri Lankan Shepherds' Pie
(15 minutes cooking time + 40 minutes baking / cooling)
Usually mashed potatoes go pretty fast around here, but we made so much for Thanksgiving that we actually had some leftover. Shepherd's pie to the rescue — but I had a long work day today, so I wanted a version that required the minimum of actual cooking.
Could I avoid chopping onions and carrots the way we usually would for shepherds' pie, and still come up with a tasty dish? Yes, as it turned out, if I combined it with the approach we use for ginger-garlic chicken. Though if you don't have leftover mashed potatoes, you'll need to make them fresh, which will add a bit of cooking time, I'm afraid.
Ingredients:
2-3 cups leftover mashed potatoes
1.5 lbs ground lamb (you could use beef or another meat instead instead)
1 heaping teaspoon ground ginger
1 heaping teaspoon garlic powder
1 teaspoon salt
1/2 – 1 t. black pepper (or cayenne)
1 teaspoon Sri Lankan curry powder
2 T flour
1/4 c. ketchup
1/8 c. Worcestershire sauce
1 c. chicken broth
1 T lime juice
1/2 c. frozen peas
1/2 c. frozen corn
NOTE: If you don't have leftover mashed potatoes, boil the potatoes and mash them first, before starting the meat, as there isn't really a good pausing point during the meat-cooking process.
1. Set oven preheating to 400F. Turn lamb into a sauté pan, add ginger, garlic powder, salt, pepper, and curry powder, and fry on high until browned — the lamb should give off enough oil that you have no need for more, although do add oil if needed.
2. Add flour and stir for a few minutes, until flour is browned and the ground lamb is thoroughly coated.
3. Add ketchup, Worcestershire sauce, and chicken broth; cook a few minutes, stirring, until well-blended. Simmer a few more minutes until liquid thickens into a sauce. Add lime juice, stir, and adjust seasonings to taste. If there's excess oil, blot it up with a paper towel or skim it off at this stage.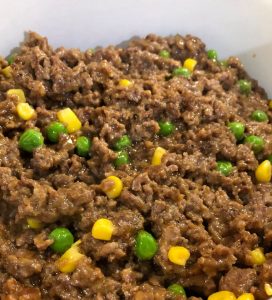 4. Stir in frozen peas and corn until well blended. Turn off heat and turn mixture out into a casserole dish. Spread with mashed potatoes.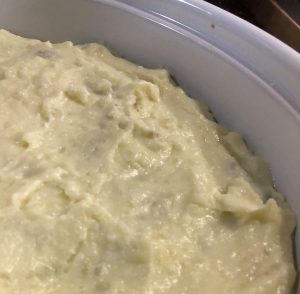 5. Bake at 400F for 25 minutes, until top of potatoes are golden brown. Remove from oven and let cool (and set) for 15 minutes. Serve hot.