Note to self — on a day when you had a fair bit of blood drawn (routine check-up stuff, not to worry), maybe it's not the brightest choice to a) eat lightly and then b) go workout with the trainer at the gym. I had to sit down partway through because I got light-headed! It's all fine; a few minutes of rest put me right.
Then I came right home and made myself a quick batch of curried chicken liver — high in iron, rich and fortifying. You could eat it with rice, but I like it best on buttered toast. Small portions would make a great (intense) appetizer. I'm feeling much better now.
Curried Chicken Livers with Onion
1/2 t. Sri Lankan curry powder
1. Sauté onions in butter on high, stirring, until golden.
2. Add chili powder and stir about 30 seconds, then turn heat down to medium and add curry powder, salt, ketchup, lime juice. Stir to combine, then add chicken livers and fry for a few minutes, stirring very gently.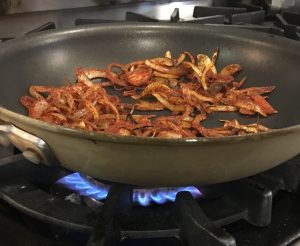 3. Stir in coconut milk and simmer about 5 minutes more, until livers are cooked through. Serve hot with rice or bread.