Kevin thinks the Hague Blue flows well from the Buckland Blue cabinets in our kitchen, so he's good with that for the family room. And we both like Brinjal for the dining room, yay! I think it's the perfect melding of my love of cool colors and Kevin's love of warm colors. (Just to be clear - brinjal is an Indian word for eggplant, which the British/French call aubergine. I tend to use the three terms fairly interchangeably, so sorry for any confusion.)
If you're having trouble imagining an eggplant dining room, it might look something like these lovelies:
Minus the bright white, which neither of us like (too modern) -- (and note the Chinese blue vase on the dining table; this will be relevant later in this post):
The photo claims the walls are aubergine, though they've photographed more red; I like the feel of this room, very homey:
Minus the red curtains, I think:
Not lacquered all shiny:
This is a nice easy-to-live-in room:
This one is cute (although also a lot of white):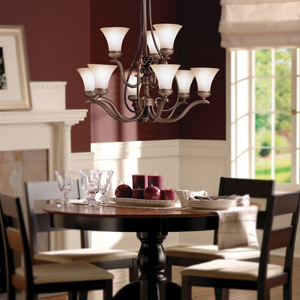 This is a bit Hollywood glam for me, but I like some of the colors:
And okay, this isn't a dining room, but I think this room is just GORGEOUS -- I would love my house to have this feel overall:
So Hague Blue and Brinjal would give this sequence:
But then what for the front parlor? We'd thought a red, but somehow, all the reds we've painted look odd next to Brinjal -- too close, maybe. Although someone did it here and it looks okay. I think their purple is less red, though.
If we didn't do red, then what should go next to the brinjal? Color suggestions to pair with aubergine include cool blues, greys, mustards. We're not big yellow fans in general. Do you think any of these would work in a room which doesn't get a ton of natural light?
Chinese Blue (this is what I've been imagining for the front room from the beginning, but I think Kev is unconvinced):
Castle Grey (Kev likes this color, but it's a little green for my tastes):
Down Pipe (maybe too dark in that room -- it looks darker on paper than on screen):
Those are strong tones -- if we went to mid or light tones, we could do something like this silver grey -- but would that be too strong a contrast, and too jarring?:
Skylight: