I've been longing for some John Robshaw block-printed textiles for quite a while now; I finally gave in and got the shower curtain for the master bath. If you remember, this will go in front of the master shower, which has an arched Gothic opening, and quartzite tile (like this, but with fewer metal insets -- it also looks lighter and brighter in person than in this photo):
I'm hoping this shower curtain (
name: Stone
) will look just as nice as I imagine -- to my eye, this is reminiscent both of India and of old medieval manuscripts. Like vines and flowers climbing up a palace wall. I particularly like that it's still pretty and interesting to look at when folded back, since I think I'll want to keep it pulled back often. Detail:
First shower curtain in the set below:
And it'll all probably be with this Restoration Hardware washstand -- the nice store lady told me they're having a 25% off bath sale starting January 4th, so I'm going to wait to order the base then, and Pam says her granite guy can get us the same Carrera marble top for half the price. So while it's still insanely expensive, it's not totally out of line for a bath vanity that will hopefully last us the next thirty years, at least.
In the next few months, we're still going to keep an eye out for an actual antique piece to use instead, but I actually am kind of in love with how much storage this has, and how open it looks (which does mean I probably shouldn't crowd the storage; I'm going to try to confine everything to the bottom shelf), so if I can't find something similar, I'll probably stick with this piece.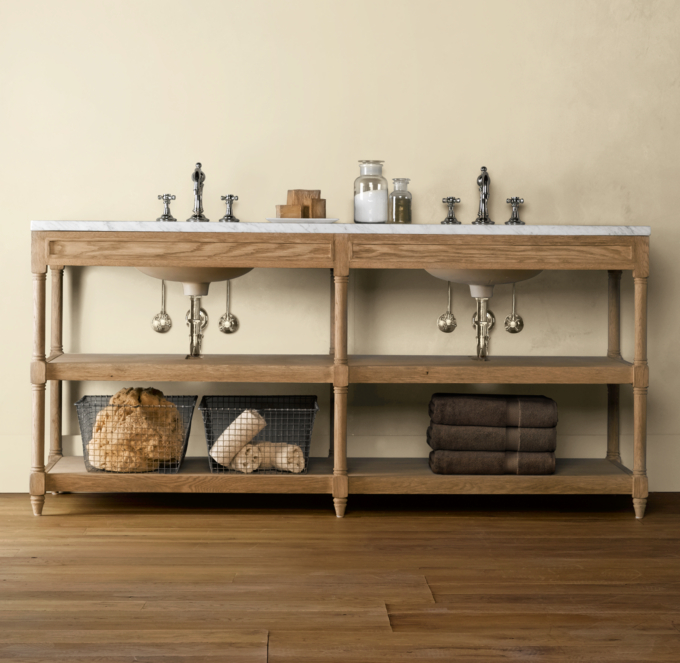 I'd kind of love their
pharmacy bath cabinet
too, but I think I may need a different storage piece in that space, one with reasonably tall closed storage -- otherwise, I don't know where to hide cleaning supplies for the bath. Hmm...are there relatively pretty bath cleaning supplies that I don't need to hide? I admit, I use the
RH soap containers
in my kitchen and powder room for the pretty, but plan to refill the kitchen one soon with clear real dish soap, because theirs is too wimpy. (Their hand soap and lotion are fine, and smell gorgeous -- I like both the Fresh and Lemongrass scents a lot.)
And above the clawfoot tub, there'll hang the Moroccan lamp that Pam gave us (it doesn't actually come with a fabulous metal screen behind it, ah well):
I'd like to find some simple sconces to coordinate with that. Also some mirrors to mount to the inset medicine cabinets -- I'm currently leaning towards one of Khalid Ali's artisan mirrors (mango wood covered in nickel-plated brass) from Novica (probably the first one, "Palace Window", if Kev's okay with it):
Picture all of that with bone-white walls, medium-to-dark (still deciding) wood floors, metal accents throughout, a white clawfoot tub with dark silver feet, a cathedral ceiling overhead, and three tall windows flanking the tub. Ideally, a faded gray Oriental rug or two on the floor.
It's nice to see the room starting to come together.