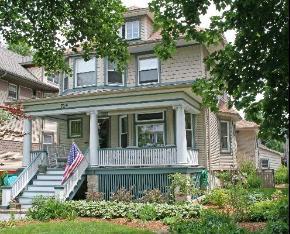 We've agreed to buy a house! The Beautiful Gunderson, at 714 S. Elmwood Ave., Oak Park.
More photos from before
. They're keeping their washer and dryer and the acorn lamp in the front hall, but leaving us the piano. (Which needs some repair, but is pretty much playable now.) I need some sheet music. :-)
Our buyers have requested a mortgage extension 'til the 17th (we think just because they were slow), so there's still some chance that they don't get it and all of this falls through. Plus, there's our inspection of the Elmwood house (hopefully early next week), and hoping no major disasters turn up there. And then much packing, and then moving out on the 29th, and final walk-throughs that evening, and closings on the 30th, and moving in. If all goes well, we should be settled in by the end of the month.
Think good thoughts for us, as we enter the final stage!
Gods, I don't ever want to go through this process again. Or at least not for another thirty years or so.