Hey, folks. I'm back, after being swallowed up by four days of Kriti. Which was great, but I'm going to save the details for the next post. This one's about housing.
We got an offer on the condo on Friday. It's a lowball offer -- something like 12% less than our listed offer. We countered, and they countered again, now up to around 10% off the listed price. I know everyone's bargain hunting right now, and interest rates are going up, so maybe that's the best we can do. Yet at the same time, our condo's only been on the market two weeks, we've had a bunch of other showings and some interest at the open houses, and we don't actually have to move anytime soon -- not even this year, or next year. Not 'til Kavi's five, really, and ready to start school. On the other hand, we did all this work to get stuff into storage and do staging, and it'd be nice to feel like it was to some purpose. But on the other, other hand, that's really sunk costs, and probably shouldn't factor into our decision. Conversely, on Myers-Briggs, I am a strong J, which means that I really prefer to get things taken care of and move on with our lives, rather than linger indefinitely over this sort of decision! (Kevin is a strong P, so would normally waffle forever. Although he hates dealing with cleaning up for showings, etc., so that may factor in.)
I just wish we had more data -- at this point, we just don't know if this is the best offer we're likely to get (or even typical of the kind of offers we're going to get), or if this really is some random lowball outlier, someone who's just hoping to pick up a bargain in this market/economy. Want data! Can't get it in time, though. We're probably going to counter again today, which may lead to a) a better counteroffer from them, b) them holding firm at their second offer, or c) them walking away.
We're torn -- do we take this offer, just to be done with it and go ahead and hopefully buy and move before the end of summer, so we don't have to deal with all this again next spring, when we have a new infant? Do we wait, and see if other offers come in this summer? If the 231 Wesley Victorian were still available, I think we might just take this and go buy that house, but it's definitely gone (we called once more and checked on Saturday). And while we've seen several other houses in Oak Park that we think would work, so far, there aren't any others that we've fallen in love with.
We're going to look at three more houses today. Maybe we'll fall madly in love with one of them, and that'll make the decision easier. But any thoughts y'all have at this point on either the sale, or the houses below, would be really welcome. (Click on the houses for more details.)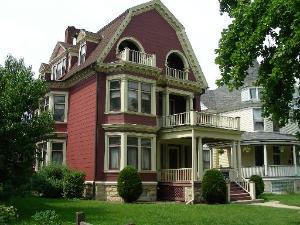 This first one (which we've taken to calling the Mad Hatter house, aka the Red Barn), I love the look of the exterior, but we can't figure out why it hasn't sold yet at that price -- we're worried there's something really wrong with the interior. Or that the whole being-across-from-a-middle-school is more of a problem than we think it'll be. I don't love their interior decor (at all), but that can be fixed. The woodwork seems to be medium-toned instead of dark-toned, which we would have preferred, but at least it's not light-toned, which I really dislike. (Too modern for me.)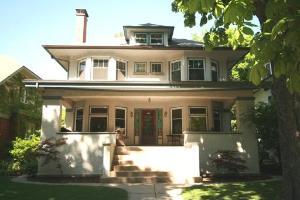 This one isn't quite as pretty on the outside, but is fine. And I love a lot of the interior details, including the fancy stained glass front door, it looks like? (Yes, I do know that I can add a stained glass door to any house I like. :-) It's a little worrying that they don't really give a picture of their kitchen, which makes me think it's in need of serious updating. I'm also not thrilled at what they did with the glass block and tile on their enclosed porch; too modern for the look of the house. But maybe that wouldn't be too expensive a fix. Of course, the list price on this is a lot higher than the one above.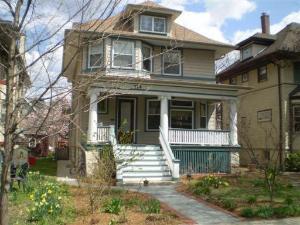 This third one, Kevin saw at an open house yesterday (while I was finishing up Kriti), and quite liked. The photos don't look super-impressive to me, but he keeps telling me that these photos are really misleading, so I'm trying to reserve judgement. It's priced less than #2, but still notably more than #1. But as we're seeing with our place, list prices are misleading, and may have little to do with final sale price.
Appts. at 11, 12, and 1 today -- we'll see what we think. Opinions?